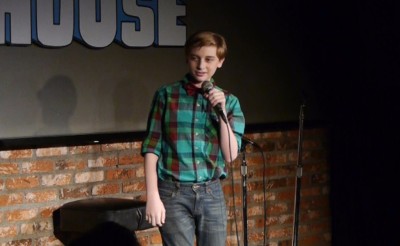 Liam Dow became interested in acting at the age of 4 when he saw his older brother and sister
perform in local theatre productions. Liam's first play was Children of Eden. From there he
appeared in The Jungle Book and The Wizard of Oz. Deciding he wanted to do movies and television, his family moved to Los Angeles. He appeared in the DreamWorks production of "Just Jacques." C3 Entertainment recently announced that Liam has been cast to play Larry in The Three Little Stooges, a feature film scheduled to be released next year.

In addition to acting, Liam also does stand-up comedy and has performed at top clubs including The Improv in Hollywood, the Ice House in Pasadena and Flappers in Burbank. Liam loves to make people laugh. His motto is laughter is awesome.

At the age of ten, Liam formed his own comic book company, K.O. Pow due to his love of drawing, writing and creating super heroes. His business hero is Stan Lee. Liam has released three issues of his comic book The Adventures of the Gray Hat Hacker which is tied to a concept he developed for a television program. The website is located at: www.thegrayhathacker.com

Liam's creates, shoots and edits his own projects for his YouTube channel and daily uploads
episodes of skits and music videos such as The Geekiest Man in the World, Civilized Time, The
Procrastinators, Hey Liam? and The Rock Bros. He creates action figures out of clay for his stop-
motion productions. Liam is also a singer and being a big fan of David Bowie, the Beatles and
Queen. He recently recorded covers of Suffragette City, Don't Stop Me Now and his own compositions, Suzy My Girl and Oxygen, which can be purchased at: https://liamdow.bandcamp.com/releases.

A ball of energy, Liam embraces Steam Punk clothing and an artsy stylistic lifestyle. He says that costuming makes the character! In his spare time, he enjoys painting (landscapes and pop art). For sports, Liam loves Tae kwon do and swimming. His favorite subjects are science and math. He is an expert on all things Dr. Who. Liam loves directing movies and inventing things so in the future he hopes to combine his two loves and create films along the lines of ET by Steven Spielberg or George Lucas.
Resume
Bio